Premier Downtown Indianapolis Event Center with Spectacular Views
The Bullseye Event Center is located in downtown Indianapolis and directly across the street from Lucas Oil stadium at 723 South Capitol Avenue. Whether it's a wedding, trade show, sporting event, corporate gathering, social event, or a religious or non-profit charity event, The next level of hospitality in Indianapolis is at Bullseye Event Center.
Inside the Event Center
The 9500 square feet Bullseye Event Center blends the industrial look and feel with modern amenities to transform your event to the next level.
Our focus is to provide top-notch attention to detail to ensure your corporate event, holiday party, wedding, business meeting or whatever you plan exceeds your expectations.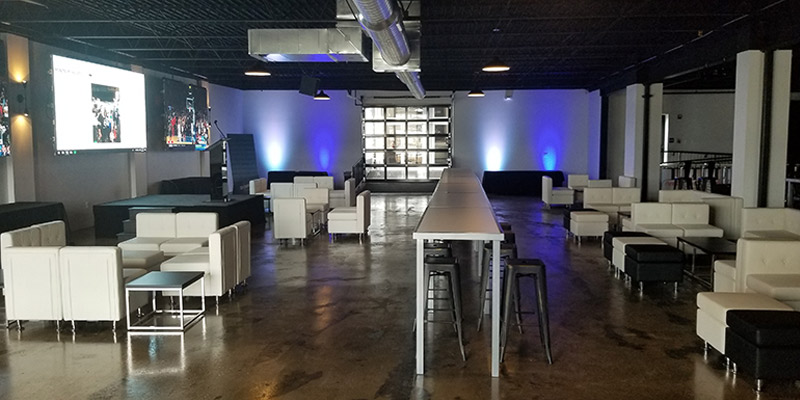 Stainless steel air duct system
Flat black ceiling outfitted with custom sconce lighting
Acid washed & polished concrete floors
Granite throughout Men's, Women's and family restrooms
White walls creating blank canvas
Soft white leather furniture included in your rental, no additional charge
Table rounds with linens included in your rental, no additional charge
Reclaimed wood throughout
BEC Technology
One of the pieces that sets us apart from other event centers is the technology that can be included into your event. Whether that is utilizing our three 110″ LED video walls or four-sided video wall or simply our in-house audio and visual team.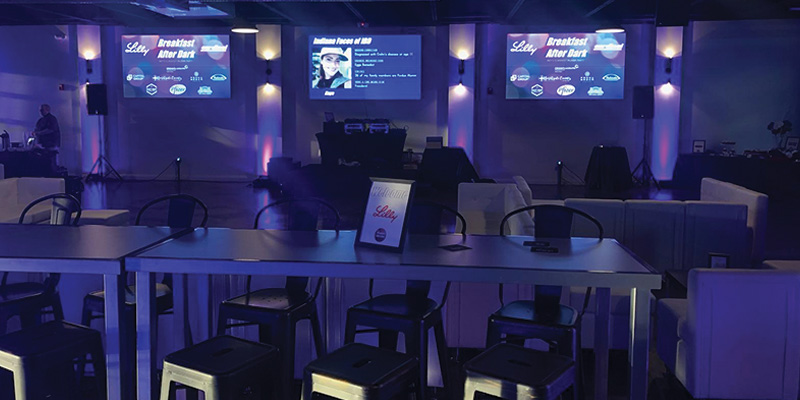 2 high definition LED pillars (four sided)
High definition speaker system
In-house audio visual company
BEC Indoor/Outdoor Pavilion
Equipped with floor to ceiling curtains and floor to ceiling windows, the BEC pavilion has dramatic views of downtown Indianapolis. 75 and Sunny or a beautiful evening pull back those curtains and open up the walls and you have two 16 foot by 16 foot bays creating an amazing open air space. Cold and Rainy keep the pavilion walls closed making the Bullseye Pavilion truly a unique event space like no other in Indianapolis.
The flexible pavilion space bolsters 3,900 square feet with an 1500 square feet of outdoor space connected to Bullseye Event Center's 9500 square feet. Also at no additional expense, the pavilion can be outfitted with high boys, elegant tufted leather couches, modern off white tweed soft chairs and plush wood paneled linen chairs.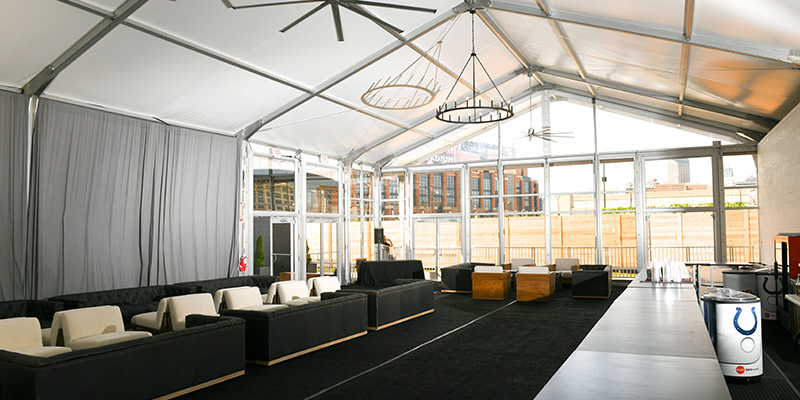 Dramatic views of downtown Indianapolis and Lucas Oil Stadium
Reach out to us to get started